Summer Sticker Set For The Happy Planner
Posted by: mayra on Jun 06 @ 4:22 am
Hey guys, I'm sorry I've been MIA lately. I been working on my etsy shop these past few weeks so it's been taking most of my free time. I always wanted to start a shop so i'm finally doing it. I will have printables and also will ship out stickers. But don't worry! I will continue to post free stickers here on my blog but maybe not as often, the etsy shop is just a side thing that I always wanted to do, it looks fun. For now I only have one listing on my shop, if you liked the "summer" themed washi tape I posted a few weeks ago then you will love this kit because its the matching sticker set. I will sell everything super cheap so everyone can afford them. Check it out and I hope you support my shop as you support my free printables.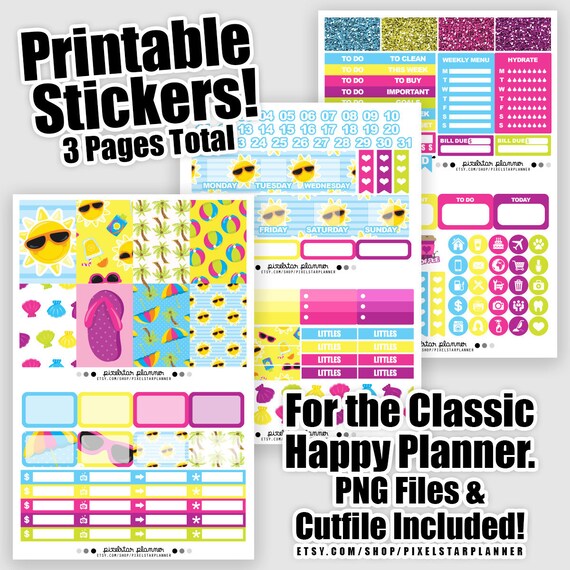 If you want to purchase this Summer kit then CHECK OUT MY ETSY SHOP CLICK HERE
Now, if you're here for the freebies well here I have a June monthly set. I'm so sorry it's a late upload of this month but like I mentioned before, I been working on my etsy shop and haven't had time. I will continue to post more freebies soon!
JUNE Download PNGs
JUNE Silhouette Studio Files
JUNE PDF File
Don't forget to join our Facebook group to get access to exclusive FREE printables that are not posted here on my blog!
Remember these printables are for personal use only. If you would like to share these printables please link directly to this printable page, not to the printable file itself. You may share on facebook and any other social media WITH a link/tag to my blog.
Also check out my latest youtube video on myyoutube channel where I upload planner videos, plan with me, DIY, Hauls etc.

I would really appreciate it if you guys subscribe to my channel, I love sharing my planner spreads with you and showing you what I buy at Hobby Lobby, Michaels, Etsy etc. If you have a youtube channel I will subscribe to your channel in return.